Blackdog Events .........Stunning venues, amazing exhibitors and so much gorgeousness ready to take home.
Below is our calendar of events for 2022 . We are very pleased to announce that we will be holding two new events at the Suffolk Showground this year. 'Antiques in the Park' on the 11th September and Antiques & Artisans a two day indoor fair in the Events Centre/Trinity Rooms on the 15th/16th October. Our Winter Fair this year will be held in the main rooms of Woolverstone Hall on the 19th/20th November.
Our fairs attract a good mix of Antique & Vintage sellers with an average of 80 plus exhibitors at each one day event. We also have selected local Artisans and a small Food Village featuring local producers and Street Food. All our one day fairs run from 9:00 to 3:00 with an admission cost of £3 per person (accompanied under 14 free). We do hope you will pay us a visit. Trade entry half an hour before the start of the event.
2022 Dates
Grand Brocante at G

emham Hall, IP13 0BT Sunday 15th May

Grand Brocante - Riddlesworth Hall, IP22 2TA Sunday 12th June

Saxmundham Street Fair - Saxmunham Saturday 9th July

Bungay Antiques Fair at Maltings Meadow, NR35 2SA Sunday 24th July

Grand Brocante at Woolverstone Hall, IP9 1AZ Sunday 28th August

Antiques in the Park, Suffolk , IP3 8UH Sunday 11th September

Antiques & Artisans, Suffolk Showground, IP3 8UH 15th/16th October

Winter Fair, Woolverstone Hall, IP9 1AZ 19th/20th November
For m
ore information on our events please look on the individual
event pages listed on main menu.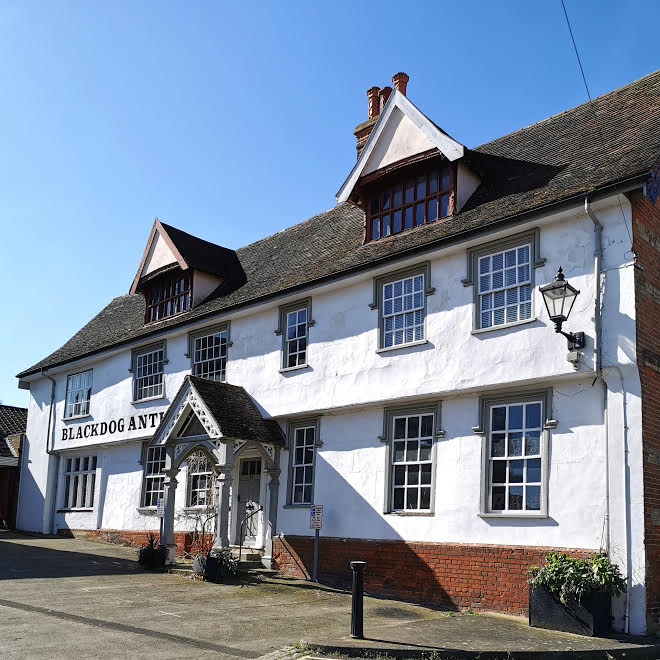 Blackdog Antiques
CLOSED FROM 13/10/22 - 29/10/22 FOR EVENTS AND RESTOCKING
If you are visiting Suffolk and can't make one of our fairs do pay a visit to our shop Blackdog Antiques. We are based in a beautiful Tudor Grade II* listed building at the top of the Medieval Market Place in Halesworth. We are regularly featured on the Antiques Road Trip and Celebrity Antiques Road Trip and always have in stock an eclectic mix of antiques, vintage and mid century modern pieces.
Opening Hours:
Thursday: 11:00 - 3:30
Friday: 11:00 - 3:30
Saturday. 11:00 - 3:30
You can also shop online at: www.blackdogantiquesandvintage.co.uk
We will open by appointmentif there is something specific you require or you are collecting items that have been sold on our online shop.